I wanted to listen to an old song when I was writing this entry and I saw this song in my folder, now it may not be OLD OLD but it is from last year so it's not new and I thought it was time appropriate with how I feel!!!
So if you want watch it!! FYI: I kinda stole this idea of embedding my vidoes from Emily at Emily's Purple Pages ... Sorry and thanks Em!!! :)~
ANYHOO ....
My life has been kinda crazy!
My BFF and I are not really talking ...
my choice not hers ...
she really didn't do anything major, I just need my space and I thought she would understand but then today I got some nasty e-mails from her and a few IMs! I mean there really is more behind the story but I won't get into it here!
They do always say that you see who your true friends are when you really need them and through this tough time that I am currently encountering I really was surprised to see who was and was not by my side!
Lisa has been there for me ALOT! She has listened to me rant and rave and curse and cry and she just listened (on the phone most of the time) and when she and the kids were here she consoled me more ... I bawled my eyes out a few times just at the fact that (call me conceited if you want I don't care really) I am a nice girl and I did noting for him or anyone to do such a HORRIBLE thing to me .. oh FYI: I found out there were THREE, yea count them again 1 2 3 girlfriends! I am guessing I was 2! I know Jenn was before me, but I have NO idea where or when the other girl came into play! Oh and the third girl is in denial, she don't believe that Kori is cheating on her! She really believes she is the only one! Well better her than me! I am glad that I have my sense still intact and am not insane to think she would randomly call me and lie to me about such things especially with the way things add up! But whatever! He is out of my life! And I sure am SO glad about that!
Tammy has been a great listener for me too! That girl has some great advice and can read people like they are an open book waiting to be read! It's weird! But I love her for that and many many other reasons! Another main reason being that she has gone through alot of the same stuff as me when she was a child and while she was growing into a young adult! It's weird! I sure am glad that GOD sent her to me! Heck she is the reason I got the job I do .. she hired me when I first started! Weird how now we are at the same level when I started 2 positions under her!!
Latoya has called me like EVERYDAY (LOL! We actually are on the phone now) just to see how I am doing and let me vent about the stupid people I encounter in my life! Yet another great friend!
Oh and I cut my hair!!! Oh yea! I love to cut my hair REAL short like once a year! I did it last summer! Here are a few pictures to show you my new beauty!!!!
LOL! I love being silly!!!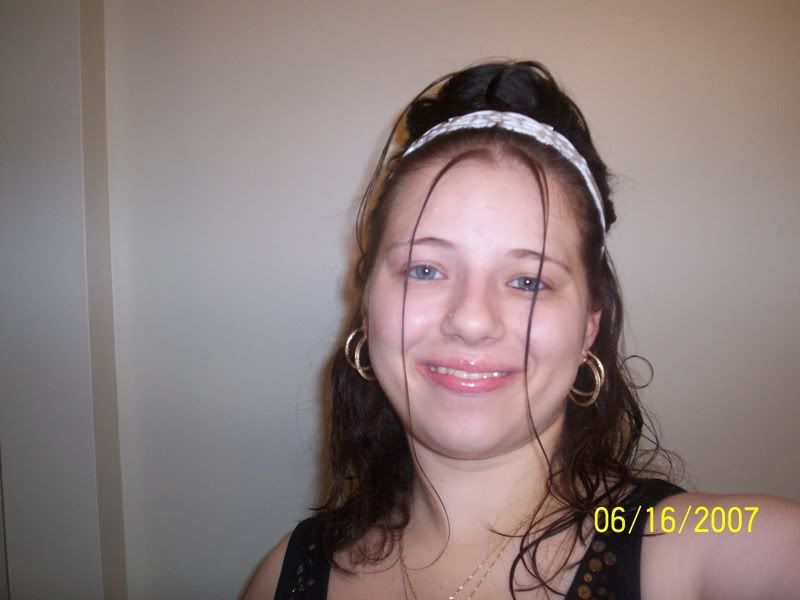 But anyways ... moving on!
I am so excited .. I ordered some nightstands FINALLY!
I ordered them through fingerhut.com I paid like $145 with shipping and handling!
They should be here tomorrow and hopefully they will come before I go to work so I can put them together! :)
And I hope I can pay like somewhere between $30-50 on them next pay day!
And then I want to get a vanity for in my bedroom!
Then I want to get dressers and a bookshelf!
Oh my I am getting so excited just thinking about it!
Although it will take me like a year to get these few items since I am so friggin poor!
But I figured if I can find a part time job SOMEWHERE and save whatever money I get from that job with the exception of when I may need some of it to pay bills or get groceries when I am struggling!
Then I can get a car and get a better job and get more furniture!
YAY!
So I have a plan intact now to follow though!
As a matter of fact after I typed that sentence I went and filled an application at Turkey Hills website!
I figure I can work there 3rd shift and the hours won't interfere with pagoda!
Oh my the life of being an adult makes me wanna cry sometimes!
Seriously!
Well thanks to all of you for reading!
I hope all of you have a great rest of the evening and a fabulous friday!