LOL!
Wow!
I could not have named this entry any better!
What I am about to do WILL get me in trouble LATER!
But hopefully I won't get caught right away ...
Hopefully it will be after the person it involves is so attached they won't care about what I'm about to do ....
I'm really loving stringing you guys along too ...
This is fun ...
Okay enough is enough .....
I was online talking to my girl from high school, Jessie, (we just got back in touch like last week, I called her for her b-day and we have been talking since ... waving to Jessie, I see you) and well she just like all of you has been asking for a picture of Kori!
Well he was talking to her on the im (instant message) as well ...
So he knew she was asking ...
Well he didn't want me to take his picture ...
He says he will do family photos but he doesn't like to take random photos ...
I told him we will work on that!
So needless to say ....
I eventually captured 3 pictures of him .....
(Man I am in SOOOOOOOOOO much trouble for doing this)
He knows I am ALL OVER the internet ....
I have a myspace, yahoo, Aim, etc.
I told him I have a journal but I don't think he pays too much attention to that ...
He pays attention to me being on myspace and always talking to someone ....
He told me tonight that I BETTER NOT put his picture anywhere on the Internet ....
OOOOOOOOOOOOOOOOOPPPS!
I forgot! :) (As I sit here doing my evil laugh)
I told him that was not fair ...
He asked why not I told him it was b/c I wanted to share him and show him off ...
He said I could just introduce him to everyone and not post him on the web where the whole world could see him ...
I told him it would be on my myspace page and my journal ...
In which BOTH are PRIVATE ...
So only my friends could see it!
I told him he would just be posted up in MY world, not the WHOLE world!
So hopefully by the time he finds out about this he will be so addicted to me and my loving (SO NAUGHTY, SORRY) that he will just shrug it off!
So without further blabbing on ....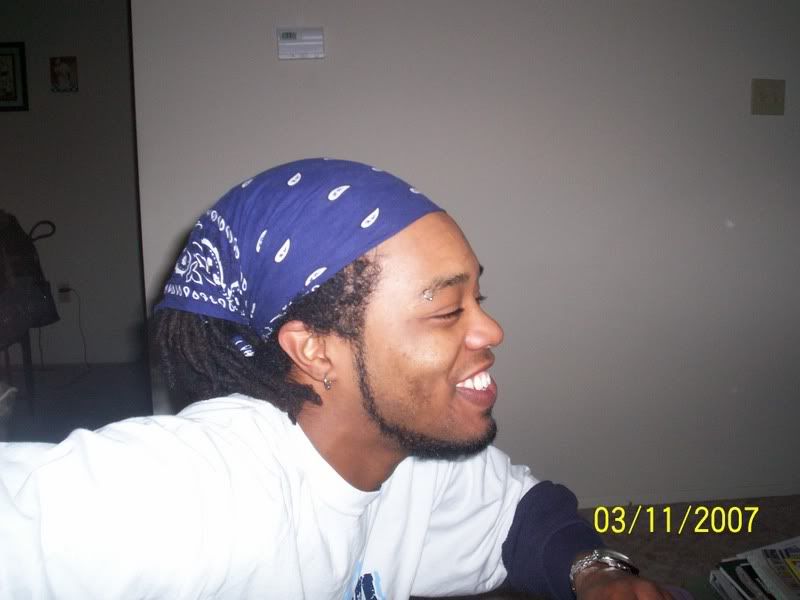 He was sitting here at the computer talking to Jessie! (waves crazily ... I know you are reading this ... LEAVE ME A COMMENT DAMMNIT!)
This is the one I will mostly get in trouble for ..... I was trying desperately to get a picture of him with his whole face and he was standing there saying something stupid about taking a picture for Jessie while he plays with his boobs and I told him no and I snapped before he was feeling his boobs, but you know digital cameras are slow so it caught him playing with his boobs being stupid!
This was the last one that FINALLY I got a good one snuck in, he didn't think I caught it either! HA HA HA!
So now I am in SOOOO SOOOO SOOOO much trouble for this ....
I hope all of you appreciate it!
I mean hopefully he never sneaks up on me while I am on the computer and he sees he is in my ONLINE journal.
He said he didn't want to find his picture posted on the Internet, but this is private and he doesn't know my screen name, journal link, who my journal is through, or anything, so hopefully I will be ok!
If he does see this ...
This is to you Kori ....
Sorry baby, I had to do it ...
You are just so damn sexy I couldn't resist showing you off to my people that know me oh so well ...
I couldn't keep you hidden ...
They wanted to see you!
So I had to show them!
I had to show them how sexy you are and how much I love you being in my world!
You sure mean a lot to me already ...
You showed me a side of men that I have not really gotten to see before and for that ...
I could never thank you enough ...
I really hope what we have stays forever and that we make something beautiful of it!
Besides like I told you tonight most of these people that read this live all over the world and to visit all of them just so they could see you in person could take forever ...
It was much easier to just share your beautiful smile via the Internet with a picture of you ...
We WILL work on the random picture thing!
We both have compromises that we need to make ...
And this will be yours, we already know mine!
PLEASE! Don't be mad at me baby!
I had to do it!
I had to show the world how much I appreciate your presence!